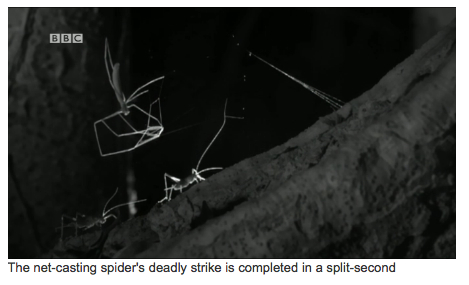 Net casting spider
Whilst I've been away filming this summer BBC2 showed 'The Dark; Nature's Nighttime World' a three part series based in South and Central America.
One of the most memorable moments was on The Osa Peninsular in Costa Rica working with the wonderful entomologist Dr George McGavin. George had found a net casting spider and was eager to see exactly how it caught it's prey – was it just eye sight or were there other triggers? We set up an ultra high-speed camera which can film in both infrared and daylight and in the true nature of wildlife filming waited for some time (actually 6 hours isn't bad in the scheme of things!) You can see here how we got on as well as some fascinating extra insight from Craig Walker, deputy team leader for invertebrates at the Zoological Society of London.
The BBC have plans to repeat the series this autumn.